Guests and Volunteers
---
Tommy Galliano (Volunteer)
Ten years with the OMV
Looking back on more than a decade of volunteering with the Order of Malta Volunteers I realise what a tremendous impact it has had on my life.
In my early years with the OMV I found it extremely exciting to be surrounded by people my own age who were excited and enthusiastic to be giving up their time to help other people. Everyone seemed to draw energy from working hard and sharing happiness and all-in-all creating a loving and caring environment.
As the years progressed I continued to develop very real and deep friendships with both OMV guests and helpers. I also had the opportunity to see how the OMV's (amazing) medical team operated with truly inspirational levels of care and compassion.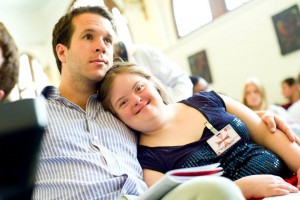 This prompted me to rethink my career choice, and contemplate a career in medicine.
As my interest in medicine grew the OMV doctors were very patient with my (almost interminable) questions and even allowed me to shadow them in their NHS jobs. Eventually, after interminable exams and terrifying interviews, at the age of 27, I started a degree in medicine and I should (fingers crossed) be a doctor within a year and a half – something that would never had happened if not for the OMV.
In fourteen years I have only missed two trips to Lourdes with the OMV;
once because I was working for a medical charity in Darfur; and another because I was travelling around Mexico. I vividly remember sitting on the white sandy Caribbean beach in Tulum, in Mexico, aching with sadness that I wasn't in the St Frai hospit
al in Lourdes helping to look after the OMV's guests…
The OMV has taken me to some amazing places. Whether I am carrying a wheelchair up marbled staircases in a Maltese palace, preparing disabled Irish teenagers for a life of independence by helping them go shopping without their parents for the very first time, or sharing moments of prayerful reflection in the Slipper Chapel in Walsingham or in the Grotto in Lourdes my time volunteering with the OMV has been some of the happiest in my life.
It has been a pleasure and a privilege and I cannot wait for the next decade.
---
Jay Hughes (Guest)
The OMV family
Jay Hughes – who is he? Where is he? What is he? Why don't I know him? Is he a 'legend', a 'celebrity' or even just a top bloke, as he is most often described.
For the few who don't know, just ask, and you shall be moved in the direction of a person in a chair called Jay Hughes; that's me! A once 1st time young OMV guest of 17, to now a rather active and modestly popular 5th year OMV guest, who you can find gladly amongst many OMV events hidden in various happy places like – Worth Abbey in Crawley; the Bronx (pub) of many a Lourdes visit in South France; saying hello to a kind lady in Walsingham, or Christmas dinners with my OMV family.
They truly are my family, in my view, all the ever loving volunteers and guests, be it from the OMV or the Order of Malta, who I love with all my heart.
Each summer, when I visit all 23 uniquely fabulous countries at the OMV camp, they support me on all these activities emotionally and practically. Thank you and long may my fun-filled OMV years continue.
---
Lizzie Narbeth (Volunteer)
The Experience of Lourdes
The first time I went to Lourdes I was struck by how strong and important friendship is in the OMV amongst pilgrims and helpers alike. This is one of the main reasons I returned and have taken part in other OMV activities.
I witnessed and experienced the happiness that comes from friendship through carrying out simple acts of kindness and care. It is also through being on a pilgrimage and having Christ in the centre of these friendships that I think strengthens and deepens them.
I am always so inspired by the pilgrims and moved to see so many people in Lourdes keen to help and care for others in such an important place of pilgrimage, all there because of their faith which they are keen to share with one another. My week of pilgrimage is filled with so much, from Mass and night prayer to the singing and dancing at the party on the last night in Lourdes. I find it so helpful to be able to devote a week to the spiritual and its practical application, something I am not always able to do to the same degree in everyday life.
It can be difficult to explain to others what an OMV pilgrimage to Lourdes is like. It was so different from anything else I had ever done.
But when faced with new and different situations it is surprising how easy it is to get involved. It is also fantastic to be in Lourdes as part of such a close knit group such as the OMV, which I think is a wonderful way to fully appreciate and understand Lourdes and it also never fails to be incredible fun! I do not think it is too strong to say that Lourdes is a life changing experience.
---